Cavities, otherwise known as tooth decay, are one of the world's most common health problems caused by oral bacteria creating acids that destroy the tooth's surface or enamel. Anyone with teeth can experience tooth decay, but it usually happens among children and young adults.
There are symptoms to look out for when it comes to tooth decay.
1. Toothache
Toothaches are usually the first telltale sign of tooth decay. An infection or inflammation likely causes the ache in the affected tooth (or teeth), and it flares up spontaneously, lasting from a few minutes to a couple of hours. This can affect sleep and cause serious discomfort.
One wrong "touch" is all it takes with this next tooth decay symptom…
2. Sensitive Teeth
Another common indicator that you have cavities is teeth sensitivity. Here, eating or drinking something hot, cold, or sugary causes pain when it comes in contact with the affected tooth. This pain can be either mild or sharp, depending on the food's intensity of flavor and temperature.
This next symptom adds to the pain…
3. Cavities
Otherwise known as dental caries, these are the holes that appear on the tooth's hard surface. Believe it or not, these are caused by bacteria turning sugar residue into acid, which then breaches into the enamel, thus creating a cavity.
You've seen yellowish teeth, but not all yellow teeth are the same.
4. Stained Teeth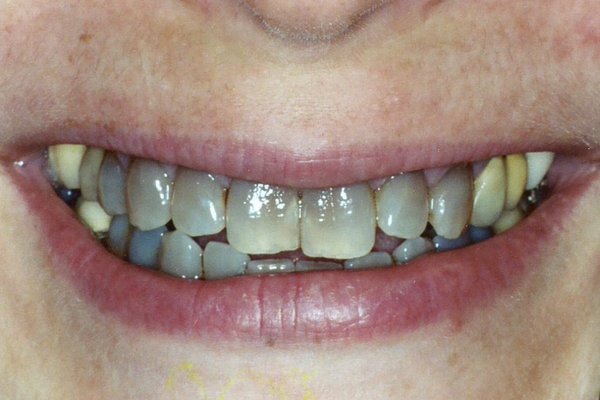 Having discolored teeth is fairly common, but if you notice brown, black or white stains on the surface of some teeth, it could either be a sign of serious tooth decay.
Eating becomes less enjoyable when tooth decay occurs, too.
5. Pain When You Bite
For people with larger cavities, food can sometimes get stuck inside them and may irritate the nerve (pulp) inside the tooth, and as a result, it causes pressure and extreme pain.
Toothaches can repel your social life, too.
6. Bad Breath
Having breath is an evident sign of severe tooth decay. Most of the time, bacteria tend to get stuck in the space between the tooth and the gums, making it difficult to remove them, even when you brush your teeth.
And it can leave a bad taste in your mouth. Literally.
7. Weird Taste in the Mouth
If having bad breath wasn't bad enough, the decayed state of the teeth, in some cases, can cause a strange, foul taste to linger in the mouth after eating, drinking, or smoking. Some people have described the taste as "salty" or even "metallic."
Delaying treatment can lead to this next symptom of tooth decay.
8. Swollen Gums
Tooth abscesses can sometimes form due to tooth decay, especially when the tooth is neglected over time. As a result, bacteria enter through dental cavities and seep all the way down to the root.
You might be familiar with this next symptom, which can occur for many reasons.
9. Bleeding
If you notice bleeding while you brush your teeth, it could be a sign you have a cavity. But if bleeding happens every time you brush your teeth, the chances of having serious tooth decay are likely.
This last symptom is rare, but don't wait for it to happen to you.
10. Fever
Tooth decay, paired with poor oral hygiene, can cause bacteria to thrive and increase the risk of infections spreading through the body, which could sometimes lead to bouts of fever.