The shoulder is one of the most mobile joints in the body with a high range of motion. So, when you feel pain on your shoulder, movement becomes strained and greatly uncomfortable.
Ever wonder what can cause excess shoulder pain? Here are some factors that could be behind it:
1. Arthritis
Arthritis is damage to the joint cartilage, and as such, the shoulder is no exception to it. As is common to all arthritis cases, those with shoulder arthritis likewise usually feel mild to extreme pain.
When cartilages become affected, movement becomes strained…
2. Torn Cartilage
With a torn cartilage, you may feel pain in the back of your shoulder, with the aching pain felt deep inside. However, If the biceps tendon is also affected, the pain manifests in the frontal part.
When things fall out of place, trouble is bound to ensue…
3. Torn Rotator Cuff
The rotator cuff enables a full range of motion and stability by keeping the head of the humerus in place. When it gets torn, it causes extreme pain in every movement, especially when lying on the affected side and lifting objects. Sometimes, one might even hear a cracking sound.
Too much friction in the tendons and bones can cause the following…
4. Swollen Bursa Sacs/Tendons
Excessive friction causes bursa sacs (located in the tendons and bones) to swell, leading to a condition known as bursitis. People with bursitis complain of a warm, tender pain in the affected area, which can also be accompanied by bouts of fever.
Never underestimate those irritations in the body…
5. Pinched Nerves
Cervical radiculopathy or pinched nerve/shoulder occurs when a nerve in the neck gets irritated where it branches away from the spinal cord. This often brings about pain, weakness, and numbness in the affected part of the shoulder. 
Age may just be a number, but not to this condition…
6. Bone Spurs
Bone spurs are bony projections that develop along the edges of bones, typically under the acromion of the shoulder. It is brought about by age-induced arthritis. Aside from being painful, it can limit mobility and cause occasional muscle spasms. 
But that's not the only harm bone spurs can do…
7. Cervical Nerve Root Impingement
When the nerves suffer compression from arthritic bone spurs and herniated disks, it causes impingement, which brings about pain, numbness, and even motor dysfunction especially in the neck, shoulder, and parts of the upper extremities. This can result in serious shoulder pain.
Compressions also have something to do with this next factor…
8. Thoracic Outlet Syndrome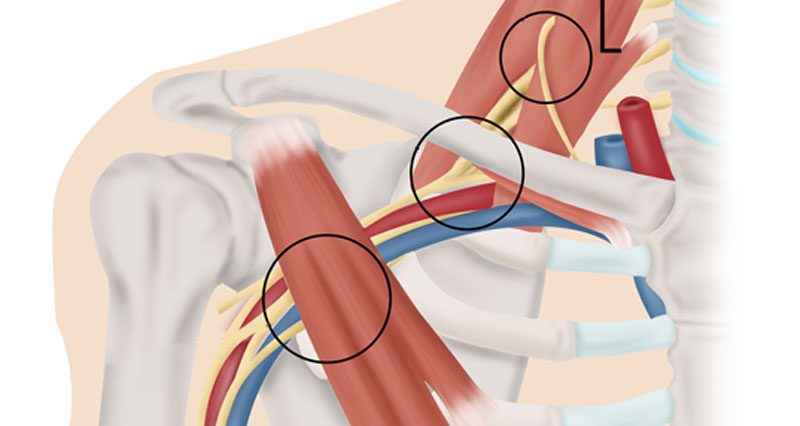 Thoracic outlet syndrome is a result of the compression of the blood vessels/nerves between the thoracic outlet and the collarbone. As such, this causes pain in the neck and the shoulders, as well as numbness in the fingers.
This next factor can leave you almost "frozen" in your tracks…
9. Frozen Shoulders
The shoulder's joints are particularly affected by this condition caused by inflammation. People who suffer from it experience intermittent bouts of pain and loss of movement, and in some cases, bear it up to 3 years!
It pays to be cautious and alert in your every move, lest you get…
10. Fractured Shoulders
Perhaps the most common type of shoulder injuries, fractured shoulders, cause severe pain, swelling, strained movement, and sometimes even deformity. Surgery, however, is rarely an option, save for severe cases. 
The following is what happens when you don't show enough love to your shoulders…
11. Repetitive Strain Injury
Prolonged, strained, and repetitive movements as a result of work and lifestyle conditions can cause chronic shoulder pain. According to a study made by Swedish neuroscientists, about 50% of paraplegic patients are prone to this condition.

[related_posts]