Vegas is on most people's bucket list for a reason. It isn't just the gambling, either. That's part of it, but it's bigger than just that. It's the mystique. The lights. The freedom you feel when you're walking down the strip at 10pm after seeing a Cirque Du Soleil show and the sidewalks are just as bright and crowded as they were at noon. 
Vegas is a whole mood. A lifestyle. It's the kind of lifestyle that's transient so you don't have to be born there, know anyone who lives there, or even have a plan upon arrival. The city itself picks you up, takes you in, and shows you where to go next. 
Binion's
Binion's was once the hot spot for professional gamblers, including the owner, Benny Binion himself. One of the most jaw-dropping parts of Binion's is the $1 million display, which features a pyramid holding $1 million in cash bills on the casino floor. Take note: you have to be 21 years or older to take a picture with the pyramid. Today, though, the 1951 building is known as Hotel Apache, a place where guests can enjoy their Las Vegas vacation in a true vintage city gem.
El Cortez
The El Cortez hotel and casino opened in 1941, making it one of Las Vegas' oldest hotels and casinos to-date. Since its creation, the building has undergone plenty of renovations and additions, including the 1980 one, which added a 15-story tower to the hotel. Today, the El Cortez remains open and continues to undergo renovations to continue its legacy.
Golden Nugget
If you're visiting Las Vegas and want to stay at a hotel that's been on screen a lot, the Golden Nugget is the place to be. The 1946-built hotel and casino has appeared in several shows, including CSI: Crime Scene Investigation, and movies, including Elvis Presley's Viva Las Vegas, the 1971 James Bond film Diamonds Are Forever and the National Lampoon film Vegas Vacation.
But, the Golden Nugget has a lot more to offer, including a shark tank in the casino, a pool with three levels of fun and a literal 60-pound golden nugget in the hotel lobby.
Four Queens
Since 1966, Four Queens hotel and casino has been hosting and entertaining Las Vegas dwellers. Named after the builder's four daughters, Four Queens boasts a sparkly, Freemont Street entrance you can't miss. Until 2007, when the hotel underwent an expansion that would include 690 rooms and the Chicago Brewing Company restaurants, the Four Queens only had 120 rooms. Today, the casino spans a whopping 27,269 square feet and also includes the Canyon Club, a 10,000 square foot nightclub.
Vegas Vic
Vegas Vic just might be the most famous cowboy in old Las Vegas, particularly for his ability to speak and wave his arm. Vegas Vic's original home was at former hotel and casino, The Pioneer Club, from 1942 to 1995. Today, The Pioneer Club is a gift shop, and visitors can take notice of Vegas Vic's glowing presence anytime they walk down Fremont Street.
Fremont East District
Known as the forefront of old Las Vegas, Fremont East District is a happening place to be, especially if you aren't sure where to begin on your tour into vintage Las Vegas. You'll notice all the neon signs decorating old hotels, restaurants and shops alike. Plus, the street is fairly walkable, and every inch is packed with energy.
California/The Cal
Although not too old in comparison to some of the other hotels on this list, the California, or "The Cal," is a must see in Downtown Las Vegas. The Cal opened in 1975 with just 325 hotel rooms, and today it has 781.
But aside from massive expansions, The Cal is perhaps best known for the Golden Arm, a term that refers to a man who rolled dice for just over three hours without losing during a game of craps. So, if that's your game, you might want to test your luck at this hotel and casino!
Golden Gate
The Golden Gate Hotel & Casino is the oldest hotel on Fremont Street. The hotel and casino opened in 1906, and up until 2019, it was known for its famous shrimp cocktail, which first sold in 1959 for just 50 cents. Today, the Golden Gate contains a spacious, 12,243 square foot casino with a sportsbook, and it's a must-see for anyone who hasn't visited the historic spot before.
Little Church of the West
Old Las Vegas is known for a lot of things, including tiny wedding chapels. The Little Church of the West is one of the most famous small chapels in the city, and it's even registered as the only historic site on the Las Vegas Strip under the United States National Register of Historic Places (NHRP). Built in 1942, the chapel has appeared in film and on TV, including on an episode of Perry Mason and in Viva Las Vegas. You can still get married at the chapel today.
The Peppermill
If you're looking for a lounge with a throwback feel, you might want to try out the Peppermill, a restaurant and cocktail lounge that's open 24/7. It's got firepits surrounded by glowing blue water, happy hour specials and a neon vibe that's not to miss. The Peppermill is a true, 1970s vintage must-see.
Main Street Station
The Main Street venue is another not-so-old spot in downtown. Built in 1978, Main Street houses a brewery and a skywalk that crosses Main Street. The hotel is also home to a part of the Berlin Wall, located in the Main Street Station area. Visitors can also appreciate Coca-Cola chandeliers and a Louisa May Alcott Pullman car.
Mormon Fort Historic Park
History buffs will want to stop by the Old Las Vegas Mormon Fort State Historic Park, which features a full history of the land before Las Vegas was what it is today. The park includes the site of the Old Mormon Fort, a piece of land that Mormons settled in the mid-1800s.
Container Park
If you're looking to spend some time outdoors in Las Vegas, visiting the Container Park is the right idea. Although the park is fairly new (built in 2013), it holds plenty of historic, vintage vibes, including the enormous art sculptures that surround the shipping containers the park is named after. Keep your eye out for the praying mantis in the front of the park-it shoots fire out of its antennae!
Fremont Street Light Show
Every night from 6 p.m. to 2 a.m., a massive light show occurs over Fremont Street, and it's a must-see. Viva Vision is known for being the largest video screen in the world and stretches about 1,375 feet long. Passerby can admire the glowing lights while they walk down the historic Downtown Las Vegas.
18b Arts District
The 18b Arts District is a hot spot for anyone who appreciates art, cars and thrifting. Every first Friday of the month, dubbed "First Friday," artists walk down the street to perform and engage with visitors. Plus, there are several restaurants, galleries and shops to frequent in the District, so you're guaranteed to never get bored here.
Bob Taylor's Ranch House
Bob Taylor's Ranch House is one of the most well-known steakhouses in all of Las Vegas, particularly for its Western style (think: John Wayne decorations) and its dinner specials. It's not new, either, as it's been in business since 1955, and visitors can enjoy a steak or Cajun-style dishes, like crab-stuffed mushrooms.
Neon Museum
If museums are your thing, then the Las Vegas Neon Museum is definitely the spot to visit. Filled with enormous, colorful signs from old bars, restaurants, hotels and casinos, the Neon Museum attracts visitors who want to travel down memory lane. Its neon "boneyard" includes all the signs outdoors, but there are also plenty of signs to admire inside the museum. Plus, it's fun to appreciate just how valuable these signs are, both to Vegas residents and visitors, as one report estimated signs can cost anywhere from $10,000 to $100,000 to restore!
Mob Museum
Curious about old-time crime that's centered around gambling? The Mob Museum is the right tourist spot for you, then! Filled with history on both law enforcement and crime, the Mob Museum houses a plethora of exhibits to view, including one on the St. Valentine's Day Massacre and one about famous casino criminals. Even better, the basement holds The Underground, a speakeasy and distillery all in one for guests to enjoy.
Zak Bagans' The Haunted Museum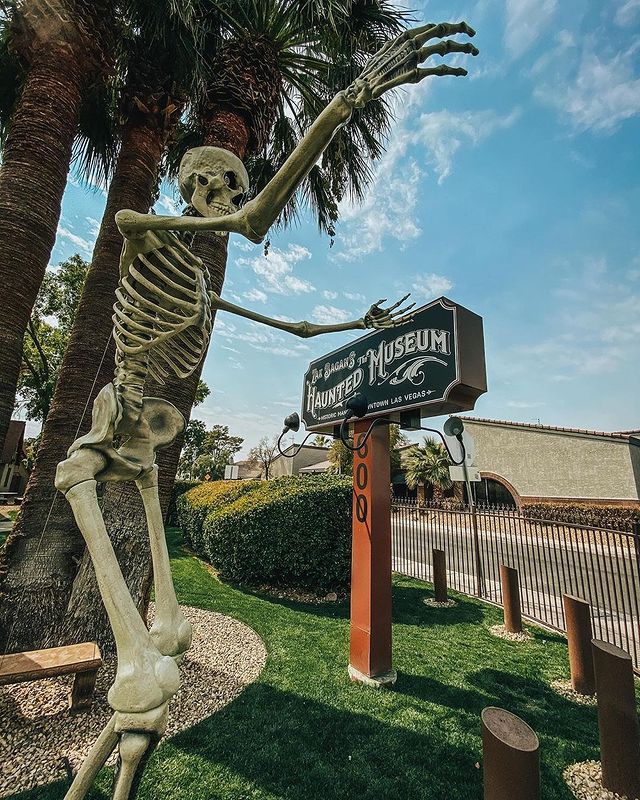 Despite what people might think, Las Vegas does have some creepy sites, too. The Zak Bagans' Haunted Museum is one of them, and it's located in a "haunted" mansion that was built in 1938. Today, paranormal enthusiast Zak Bagan runs the operation, where visitors can enjoy a ghost tour through the property. So, if you're looking to step away from all the hotels, you might want to visit this place, especially if you don't mind getting spooked.
Liberace Garage
Liberace was one of the most famous pianists of his time, and today, the Liberace Garage commemorates his legacy of incorporating bedazzled cars into his shows. The Garage contains convertibles, taxis and Rolls Royce's, among others, and none of the cars are shy of glitter and rhinestones. Plus, there's also a museum with other memorabilia from the artist, like his over-the-top outfits and shoes, as well as his golden piano.