Truly, there is no other festival quite like Burning Man. Held every year at the Black Rock Desert in Nevada, the Burning Man festival is a week-long event filled with otherworldly art installations and music, wild costumes and human connection between people from all backgrounds across the world.
To transport you straight to the desert grounds, we've collected some of the most jaw-dropping photos from previous festivals. Read on to find your favorite!
Unique Modes of Transportation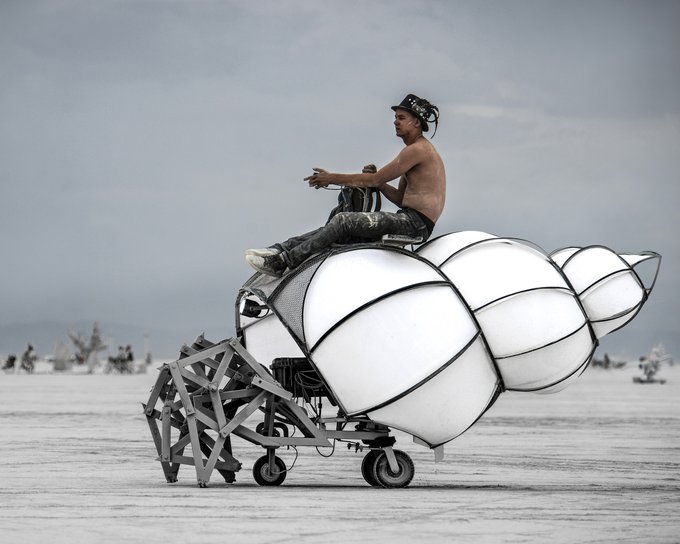 Photographer Alez Prikryl captured this shot of "Shelly the Crab" during the 2017 festival. Whether it's a hermit crab or a true vehicle, this guy doesn't seem to care, so long as he makes it to his final destination.
Creative Costumes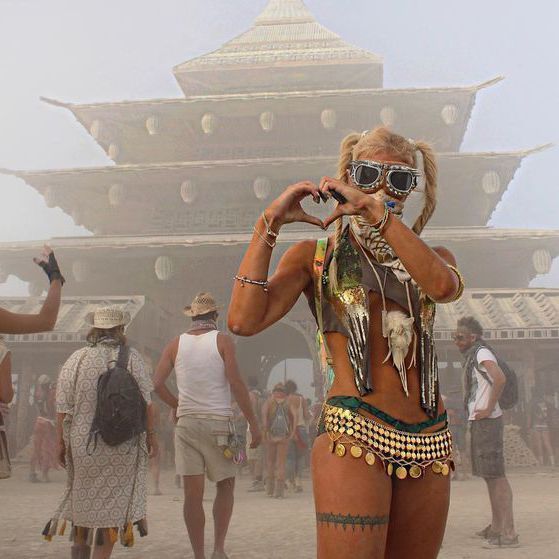 Wild, creative costumes and clothing are another part of the Burning Man festival. Here, a woman stands ready to enter into the festival.
Talking Heads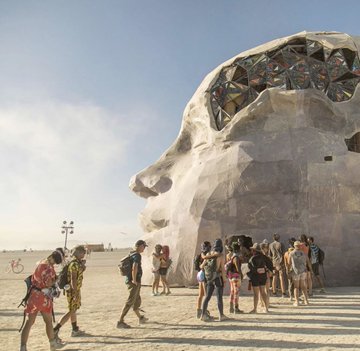 Yet another installation, this head is in the middle of a group of festival attendees, who are all decked out in dresses, shorts and headbands to look the part for the festival.
Wild West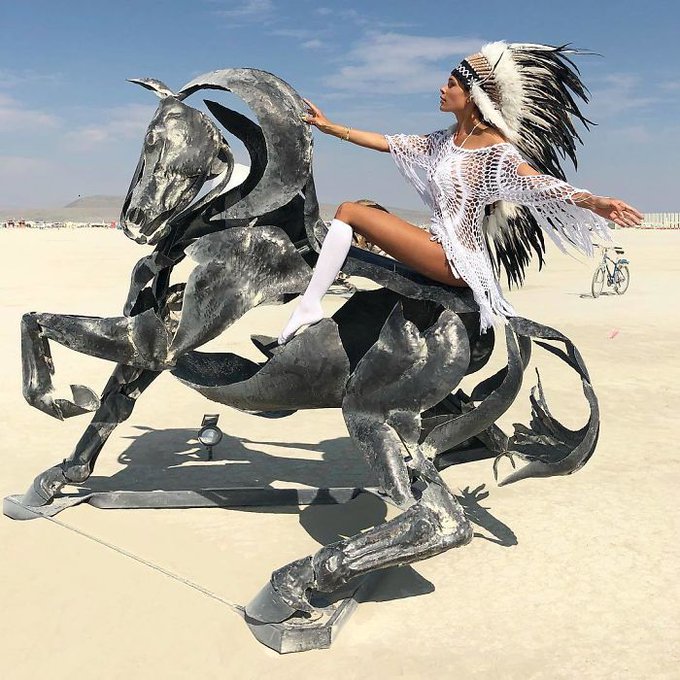 Talk about crazy outfits and crazy sculptures! This woman seems to be enjoying posing on top of a steel horse at the festival.
Cool Cars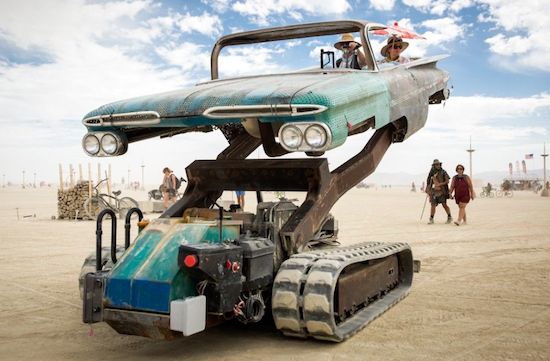 Where else would you see a car like this, other than at Burning Man? We're wondering if these people expect to go anywhere in this vehicle.
Dusty Spheres
This sculpture looks like something straight out of Star Wars. This photo came from the 2018 festival, and apparently the sphere's diameter is a whopping 100 feet wide!
Cats & Cars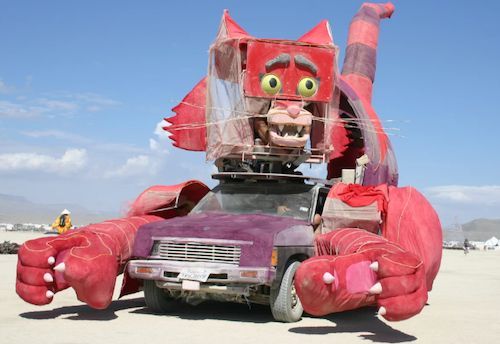 Cars seem to be the subject of intense modifications at Burning Man. Here we have a cat car, displayed in the middle of the festival.
Car Towers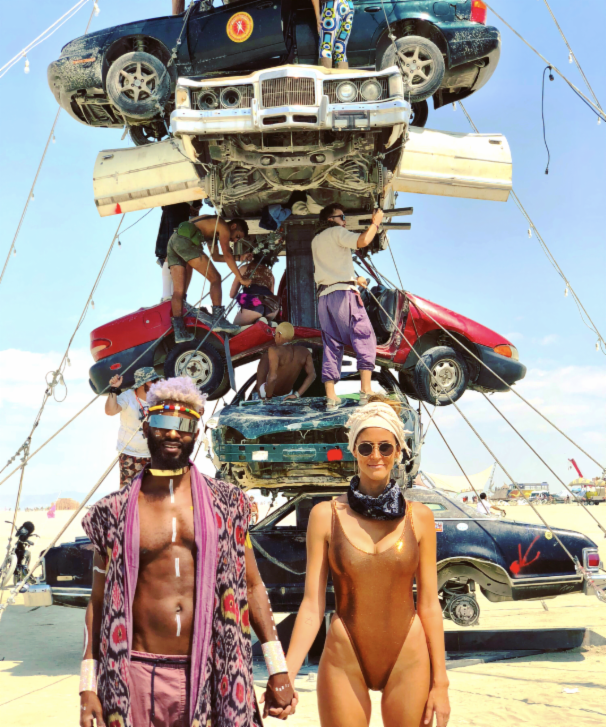 Yet again, cars take the cake for one of the wildest parts of this music festival. Pictured above are festival-goers who seem to be smiling about the stack of tied-down cars behind them. We just hope the people climbing up the cars don't get caught!
Nap Spots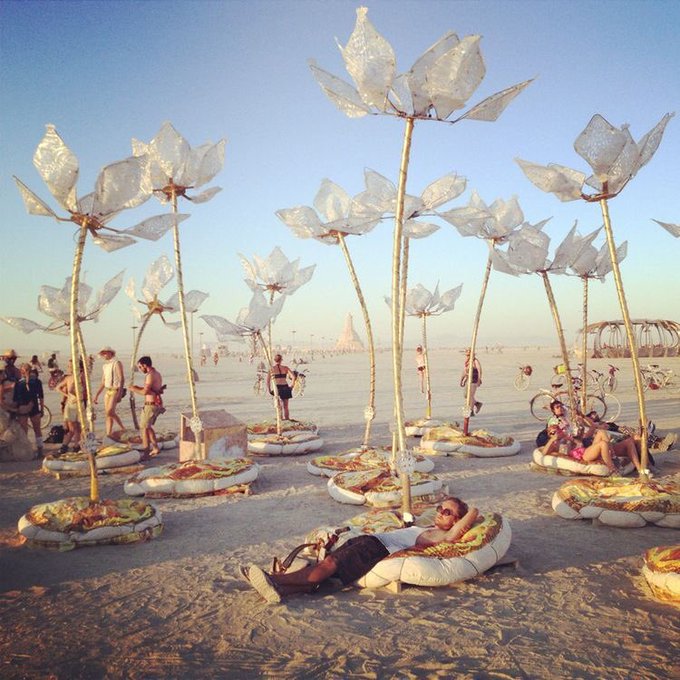 Most people who attend a long music festival tend to become tired, so it's pretty convenient that art installations can also double for napping areas!
Alien Lookalikes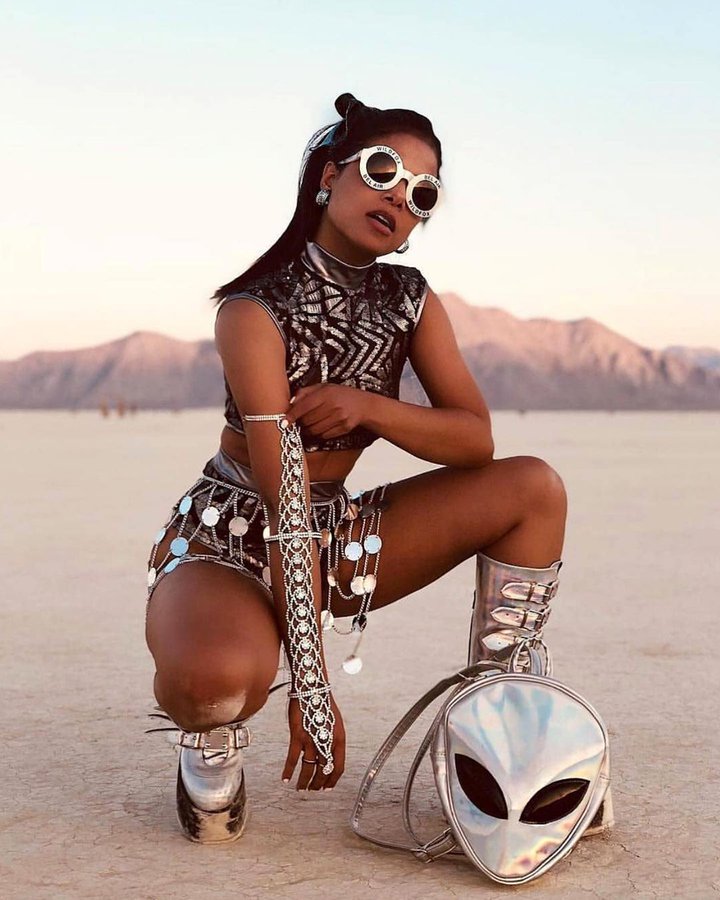 If you believe in aliens, then you're guaranteed to fit right in at the Burning Man festival. Here, a woman poses with her silver alien purse, right in the middle of the desert.
Fire-Breathing Dragons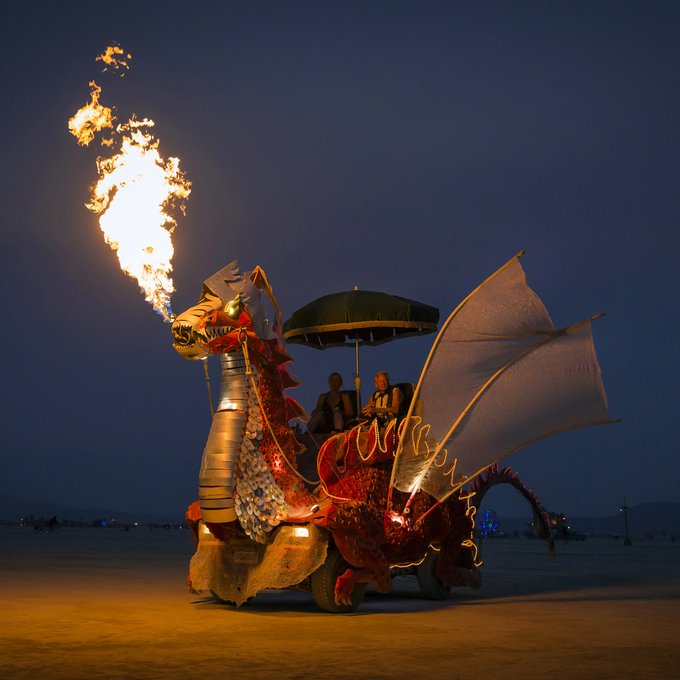 Hence the name, there is fire at this festival. Here is yet another artwork, except this time it involves an earthly element: fire.
Creepy Crawlies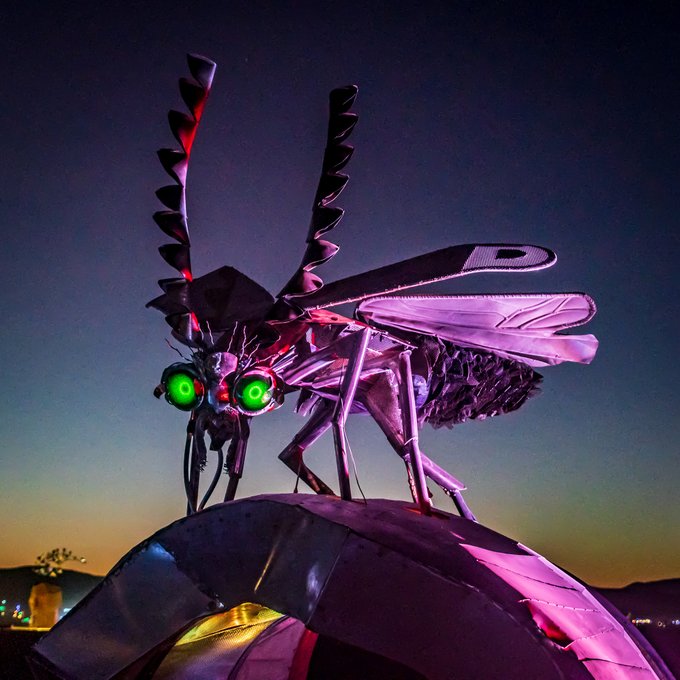 Colorful bugs are a part of this musical festival, too. This "Serenity" sculpture, made by Flaming Lotus Girls, appeared at the 2019 event. It even had "participant-activated flame effects" that would occur when people pushed one of the 24 buttons on the bug.
Big-Eyed Scrub Brushes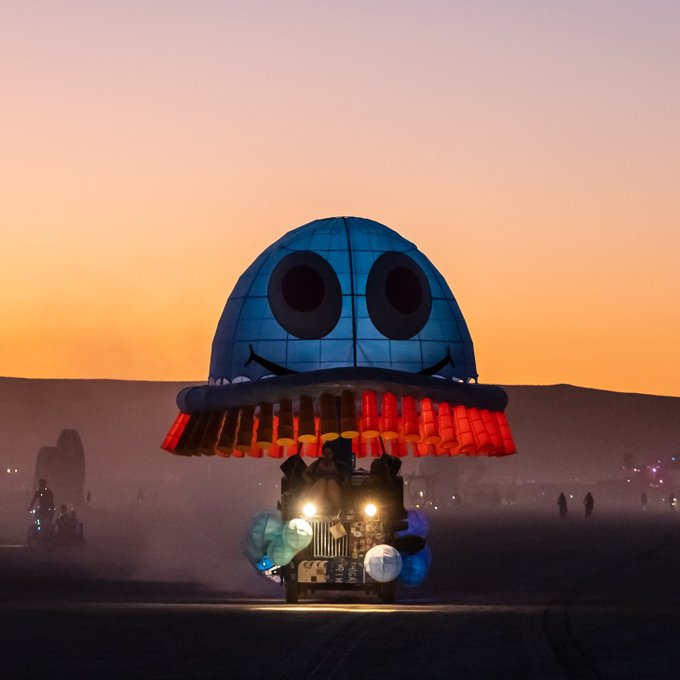 "Scrubby" rides atop an old firetruck in this Burning Man memory. Titled "Scrubby Bubble," this piece was created by artist Eddy Bullock.
Silver Cyclists
Here is "Silver Surfer" in 2012 riding a decked-out bicycle. It's apparently pretty common to ride around on bikes with lots of strings on them.
Dust Angels
Pictured in 2011 are festival attendees "meeting the playa." This is a classic Burning Man ritual, where people enjoy "bathing" in the dust while they interact with the welcoming crew.
The Thunderdome
One of the many Burning Man traditions is the meeting at the Thunderdome, where people battle. Yes, that's right. people actually fight inside this dome! Each year, people gather inside to watch.
Swings
Enjoying a festival swing ride, this woman is celebrating "Tutu Tuesday." Turns out, Burning Man lets festival-goers bring out their inner child!
Bedazzled Outfits
Decorated in colorful attire, this power couple poses for a quick photo in the middle of the Burning Man's desert.
Crazy Clowns
Yes, even clowns can be spotted at this festival. Here, three clowns interrupt the woman's photo-op and land in the dusty desert floor.
A Hug Deli
Burning Man is a participatory festival, and it's obvious in this photo. As part of the "10 Commandments of Gifting," these two share a loving hug.
Burning Egos
Photographer Peter Rupercht, who took this photo, explains that Burning Man is more than an "incredible party." On the contrary, he says, "It's a magical rollercoaster, an inward journey, with the noble pursuit of learn the subject of you."
Flaming Rings
Talk about a creative way to bring in the heat! This woman poses with a flaming ring of fire. Look closely, and you'll see a figure standing right in the center of the ring.
Disco Balls
As a nod to the 70s, this person took dressing up to a whole new level. We're wondering how they're able to see through that massive disco ball!
Skeleton Heads & Flamingo Statues
Where else would you see a person dressed in a neon pink suit with a skeleton head standing in front of a massive flamingo statue? It seems like the norm for Burning Man, that's for sure.
Trampolines
Similar to the woman on the swing, these people are enjoying their time bouncing on a trampoline. Here's yet another childlike moment created at the Burning Man festival.
Cuddly Kiddos
Think kids can't attend Burning Man? Think again. As it turns out, plenty of kids, both big and small, attend the festival. Photographer Zippy Lomax captured this shot.
Lively Traffic Cones
It seems like at Burning Man, everything can be turned into art. That includes traffic cones!
Peacock Tails
See how intricate this woman's peacock tail is? She actually made it by hand! According to the caption, each individual feather came from hand-sewn fabric pieces. This might one of the coolest outfits ever to grace the festival grounds.
Flaming Rocket Ships
Part of attending the Burning Man festival involves setting up a campsite to sleep at. Here, one camper and artist hangs on for dear life to his rocket installation. Hopefully he steers clear of the flames!
Futuristic Rocket Cars
We've talked about cars at the festival, but there's nothing quite like this one. In the middle of the desert, this so-called "rocket car" sits amid dust and art dwellers. We're wondering just how big those headlights are!
Colorful Skirts
Colorful patterns, tiny top hats, pink argyle vests. No fashion statement is exempt at Burning Man, and this individual is sheer proof of that!
Cat-stronauts
Cats in astronaut suits is not something you see everyday, but at Burning Man, why not?
Fires
From afar, a fire sprouts out at the Burning Man festival site. Onlookers watch as the flames take over, almost unsurprised.
Unusual Perches
When you're looking for someplace to rest, why not perch on a massive boar's head? Yet another piece of installation art, this boar make for a great resting spot, even in the sun.
Boredom in a Different Light
Contrary to what the sign reads (Chairman of the Bored), these two dancers seem anything but bored. Maybe it's the American flag pants, but they both seem to be enjoying their festival time.
Giant Vacuums
Considering just how dusty the desert is, it's funny this giant vacuum appeared at the festival. "A running joke in our camp, whenever someone would drive by too quickly, we'd yell at them 'SLOW DOWN! I just vacuumed!'" the caption reads.
Doll Heads
Staring off into the distance, these doll heads have quite the look. While some of them have jewels stuck to their busts, the others have what appears to be earrings and broaches hanging off their faces. Looks painful!
The History of Burning Man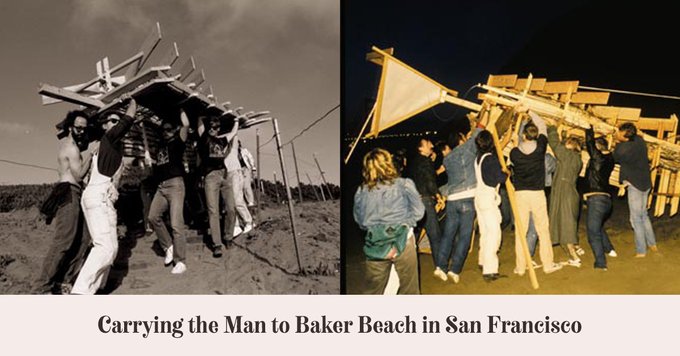 On the Burning Man Project's Twitter, they explain the festival all began in 1986, when a man named Larry Harvey and his friend built a "wooden figure" to later burn at Baker Beach in San Francisco. A crowd followed them to the burning site, marking the first-ever Burning Man event.
Climbing "Elevation"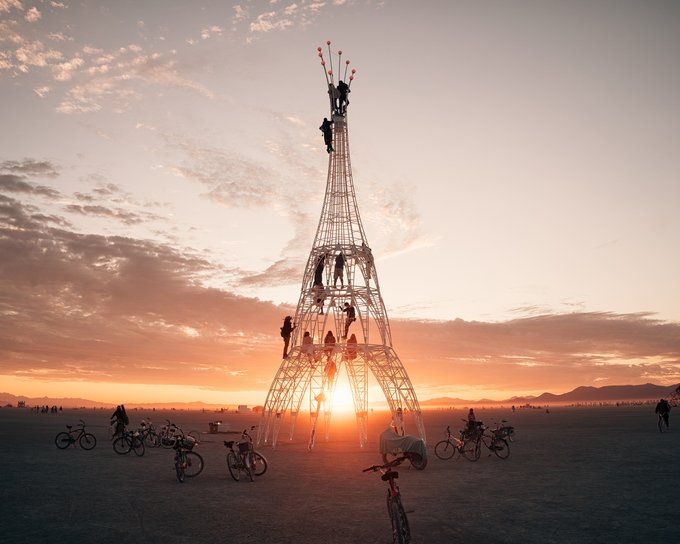 One of the most dangerous feats at the Burning Man festival involved this tower, appropriately named "Elevation." At 69 feet tall, this steel-laddered tower served as a climbing playground for festival-goers. Photographer Antoine Guibert photographed the event in 2019.
Connection Through Love, Grief & Hope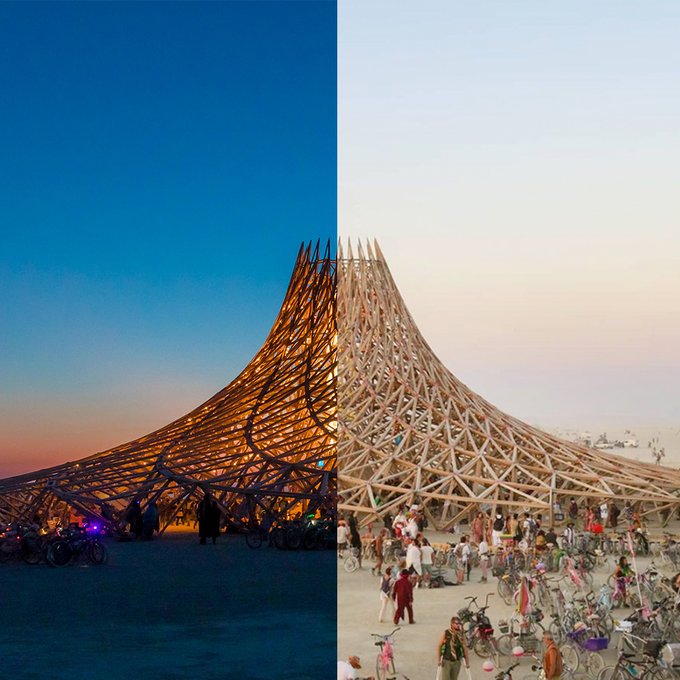 The annual Burning Man festival is a spot for plenty of art, including this installation piece by Arthur Mamou-Mani, titled "Galaxia." The artist created the so-called "temple" as a space for people to gather in the inside. It's made out of 20 timber trusses that all connect in the center to form a triangle.