So, you swiped right and he slipped into your DMs. Now what? 
Modern dating is just weird. We all know it, but we have to make the best of it because it's here to stay. 
At least until the next revolutionary app hits the market, changes everything, and we have to start all over again. Until then . . . 
We take the good with the bad because we want to meet someone who fills our lives with joy. It isn't too much to ask (is it?). As we all march toward our goals of partnering with someone worthy of our time, love, and attention, we can celebrate and commiserate with these folks who definitely understand the highs and lows of modern dating. 
Question: how long would you stay if your date looked like this? . . . 
Cell Communication
Is there any better way to show someone you're not interested in talking to them? Other than blatantly texting on your phone during a date, probably not.
Unfair Comparison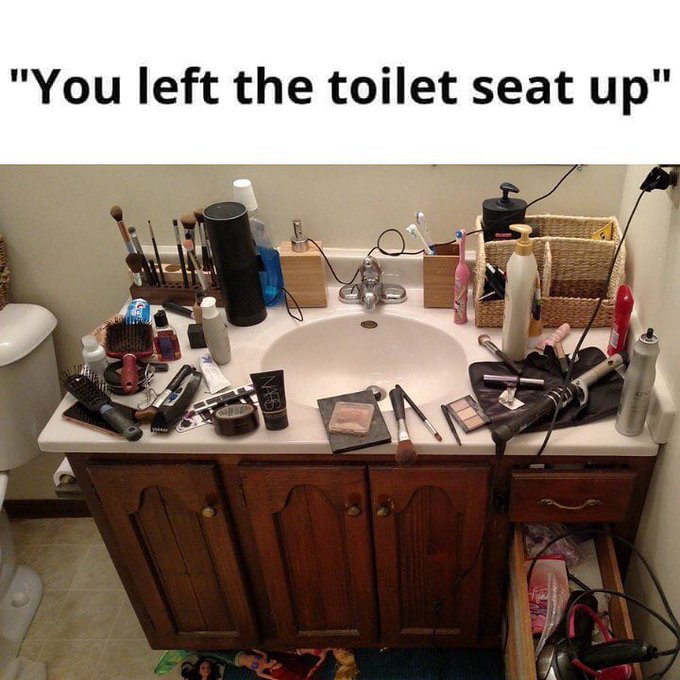 Do we think this person is a little frustrated with his partner's stuff scattered everywhere? Maybe just a little. Or maybe, they're trying to justify their own bathroom habits!
Miscommunication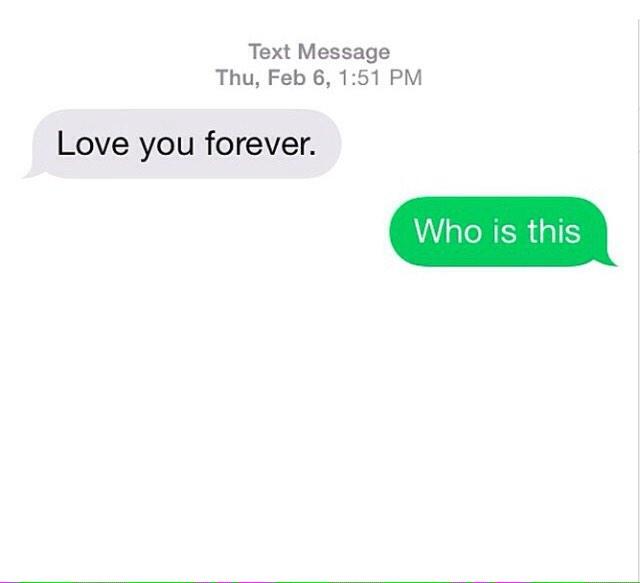 Clearly, there was a misunderstanding here. Who says "who is this" to someone who says "love you forever?!" Maybe they lost their number, or worse, maybe they just don't want to talk to the person!
Ice Cold
This person just wasn't having it when it came to affection. "Buy a heater" was their way of saying "thanks but no thanks" to a warm hug.
Toxic Start
As funny as this dating meme is, it might hold some truth. Toxic or not, relationships should never be this bad!
The Mustache That Wasn't
Lots of men take pride in their facial hair, including, evidently, Skyler's date. Except, according to Skyler, his moustache wasn't all that great-or real-for that matter.
Awkward First Kiss
No one wants their mom to stick around for a date, especially if she's there to witness the first kiss!
"Witty" Bios
Bios are simply a part of online dating. Here, though, this person took a different approach. We think Reed might have forgotten to fill out his bio here. Or maybe, he purposely put "something witty" to sound funny?
Dating vs. Pharmaceutical Ads
Nausea, heart palpitations, general anxiety… They're all a part of dating someone new, just like they're a part of medication side effects.
The Lingering Ex
Sure, it's fairly normal to discuss previous relationships on new dates, but this one seems a little out of the ordinary!
More Important Matters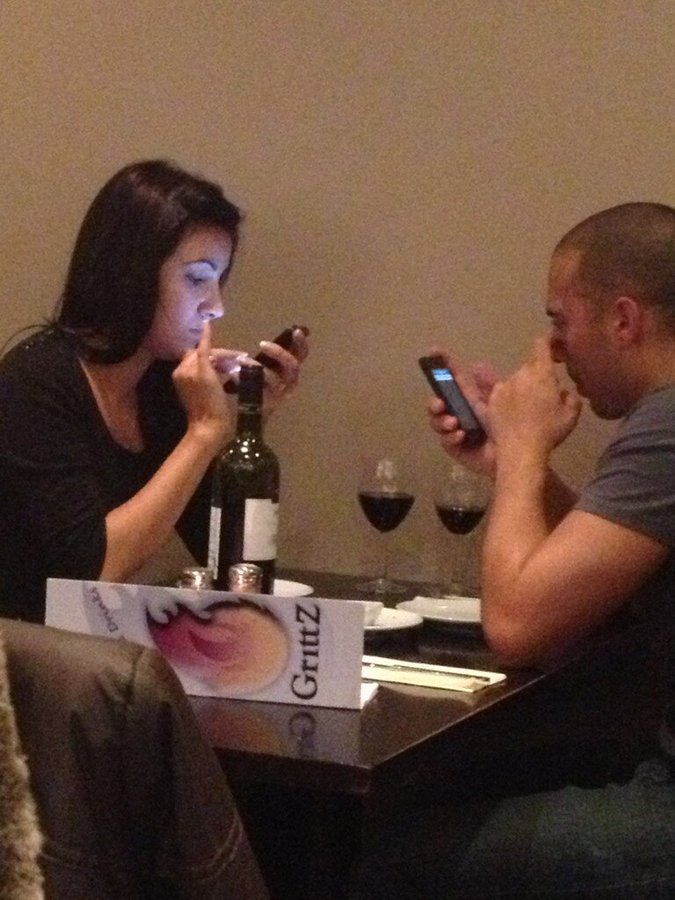 Yet again, this picture shows a date where This Twitter user captioned this shot by saying, "Who said the art of conversation is dead."
Awkward Photobomb
There's nothing like an old-fashioned photobomb to ruin a perfectly good couple photo. At least the stranger is smiling?
"Horrible" Date
This date must have been extremely horrible, considering the tipper left an honest note about their date for the wait staff.
Spell Check
Sense or "scence?" Truly, some people need to study up on proper spelling. Or at least use spellcheck.
Snapchat Serious
Younger generations will understand the weight Snapchat can have on a new relationship. For some, chatting on the instant-photo app is the only communication avenue they have with a new fling!
Hilarious Comparison
No one likes an unpaid internship. And no one likes to date guys in their 20s either, apparently!
Disappointing Question
It's no surprise the blue texter said "relax" to the gray texter, especially because they didn't even know who they were texting!
Texting All Night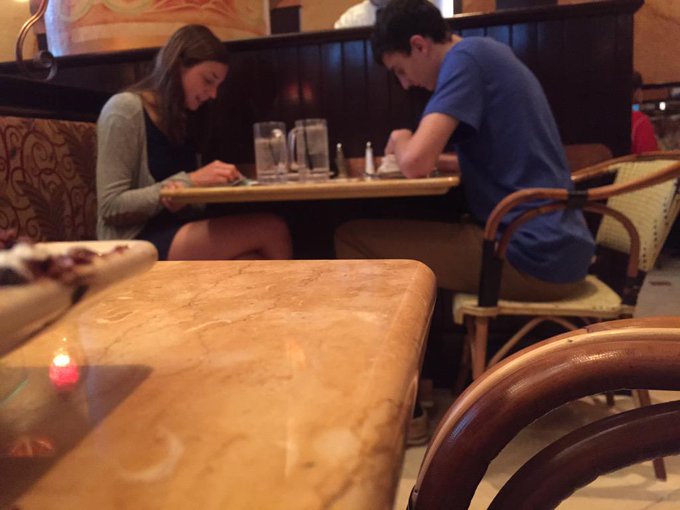 This Twitter user captioned this snapshot, "haven't said more than 10 words to each other…" It looks like these two have more to text about than to speak!
Left on Undread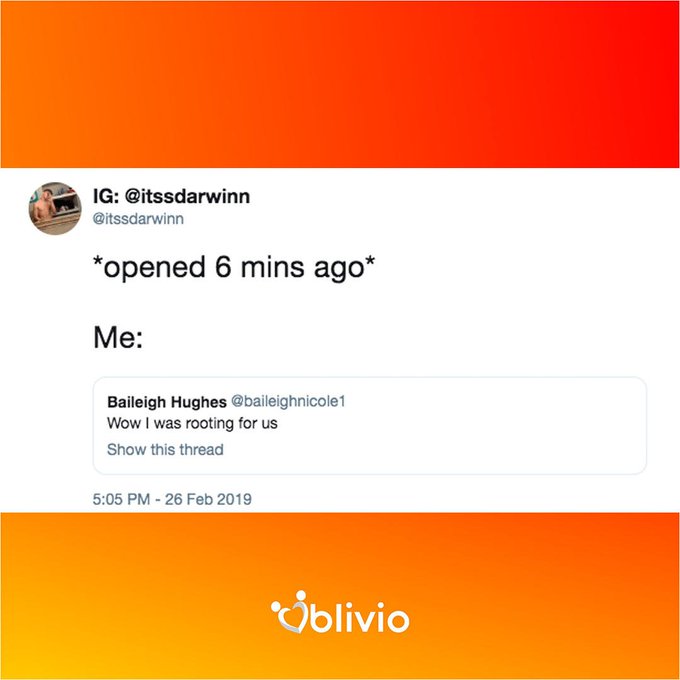 Modern dating and digital communication sometimes mean the ability to see whether or not your date has opened your message. Here, Baileigh jokes about that gut-wrenching feeling you get when someone leaves you on unread, even if it's just for six minutes.
Millenial Mood
Anyone who's ever ridden on a Razor scooter (millennials, mainly) might be able to relate to this dating mood. Painful, right?
Too Awkward to Ask
Anxiety is real, but if you're too nervous to ask someone their name, you might want to reconsider the date altogether!
Taking a Break
There is turning someone down nicely, and then there is this. Surely, there are better words and times to say "no thank you" to a date than on the actual date.
Catfish Lovers
Most people have heard of the term "catfishing," which means someone pretends to be someone they're not online. So, this sarcastic message is pretty funny, considering Internet trolls put forth the bare minimum.
Their vs. They're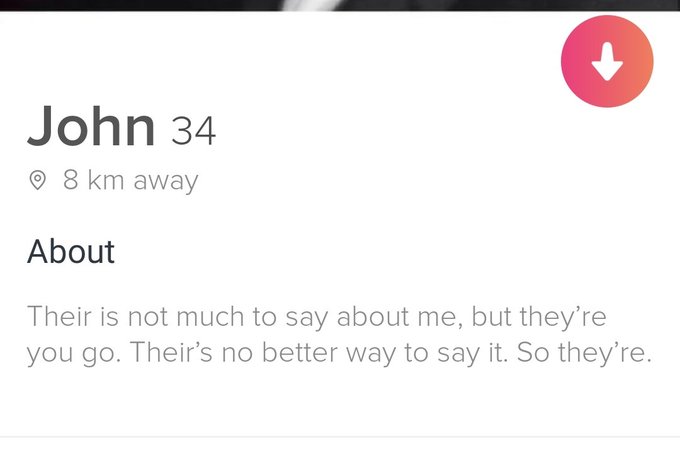 There's nothing worse than a grammar-obsessed friend, but sometimes it's absolutely necessary. And here, John definitely needs a dictionary and a grammar lesson before he goes out on a date.
Height Difference
We've all heard about how men like to exaggerate how tall they are, and here, this woman explains it with a perfect, sarcastic joke about her own height.
"We need to talk"
No one likes to hear the words "we need to talk," and here, it doesn't make much sense why the person said this after a seemingly normal conversation.
Just…Ouch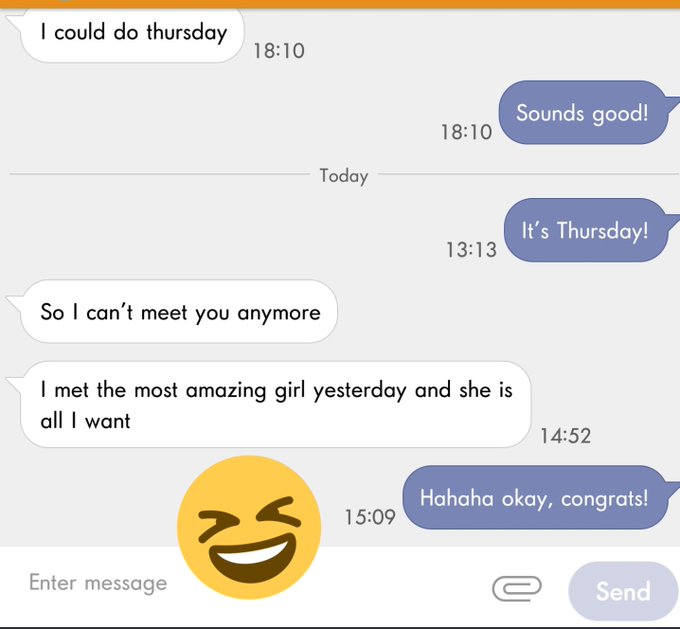 Yikes! There has to be a better way to turn down a date than saying you met "the most amazing girl" and then immediately canceling your meetup.
Hairy Reminders
This guy's tweet is pretty hilarious, but it rings true. Anyone with a lot of hair will be able to relate to his girlfriend's "shedding" habit!
Passive Aggressive Approach
Talking out problems, no matter how trivial, is easier said than done, and this Twitter rehash explains that perfectly!
A Cheesy Gift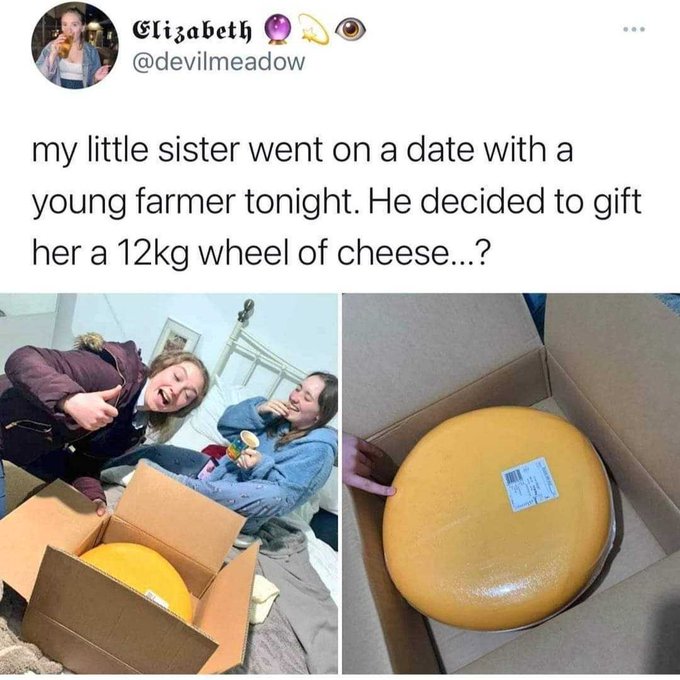 Most people wouldn't think a wheel of cheese would be the first choice in terms of first-date gifts, but here we have it!