Women's fashion is not one-size-fits all, and it never has been. From glittery flapper dresses of the 1920s, to crimped hair in the 1980s, to comfortable athleisure today, women have developed different styles to fit their needs over the decades.
We've mapped out some of the best female fashion statements from 1920 to today. Want to learn more about which hairstyles, shoes and outfits were popular in your favorite decade? Read on!
1920s: Flapper Dresses
Flapper dresses, known for their "flappy" and loose style, were common in the 1920s. Rarely did women pair a belt or a waist sash with a flapper dress. These dresses also often incorporated beading and sparkles, two features that created a more elegant style for parties or formal outings.
1920s: Mary Jane Heels
Mary Janes were one of the most common shoes women wore in the 1920s. Most Mary Janes were solid colors, but others displayed patterns or two colors, like black and white. Mary Janes gave women the ability to dress up while not wearing too high of a heel.
1920s: Hot-Combed Hair
In the 1920s, women frequently did their hair by combing it straight and then curling it with heat. The effect? A sleek, wavy updo that shaped the face.
1930s: Fancy Blouses
Dressing up, even at home, was common for the 1930s. Women frequently wore dressy blouses paired with long skirts. For a dressed-up look, pairing a blouse with a long skirt was ideal, while wearing pants with a blouse was saved for more casual outings.
1930s: Kitten Heels
Most everywhere, women wore some kind of heels when they left the home in the 1930s. Most heels during this era were very small, like the kitten heel, which only rose to around a half inch or an inch in height.
1930s: Wavy Hair with a Bobby Pin
In the 1930s, most women wore their hair wavy with a bobby pin to hold pieces of the bangs back. This created an elegant, yet laid-back look that could accommodate all kinds of outfits, including fancy dresses for nights on the town.
1940s: Shirtwaist Dresses
The shirtwaist dress was a fashion favorite for 1940s women. Shirtwaist dresses were often button-down dresses with collars and belts attached. Oftentimes, women paired these dresses with fancy hats and the all-time favorite shoe of the decade, the Oxford.
1940s: Oxford Shoes
The Oxford shoe was extremely popular throughout the 1940s. In some ways, the Oxford shoe looked like a dressed-up loafer shoe. Most Oxfords had laces and were made from genuine leather.
1940s: Pin Curls
Similar to the 1930s, women frequently wore their hair wavy and curly, often with a bobby pin holding portions back. The sideswept, pin-curls style made for an elegant, sophisticated look for the 1940s woman.
1950s: Checkered & Patterned Frocks
The 1950s marked a time period where most women stayed at home to tend to the house. The 1950s "housewife" frequently wore checkered or patterned dresses. These dresses sometimes came with white cuffs. Even though most women were encouraged to stay home while their husbands worked, they still dressed up.
1950s: Loafers
One of the most popular shoes of the 1950s was the loafer. Loafers, known for their comfortability and go-with-anything style, were frequently paired with dress pants or jeans. Still worn today, they come in all kinds of styles and materials, including leather and suede. Fancier loafers are topped with buckles and other embellishments.
1950s: The Poodle Cut
It turns out, there was more to the 1950s fashion scene than the poodle dress. The poodle cut, a common women's hairstyle of the 1950s, involved shaping the hair around the face, paired with lots of curls. Think: Lucille Ball.
1960s: Tie-Dye
Tie-Dye originated as a major fashion staple in the mid-1960s. Rock stars at the time, like Janis Joplin and Jimi Hendrix, influenced the style, and many people began adding tie-dye to all parts of their wardrobes.
1960s: Go-Go Boots
The go-go boot came about in the 1960s as knee-high boots that were typically white and had low heels. Women frequently wore go-go boots with flowy dresses. The name is also often associated with go-go dancers.
1960s: The Beehive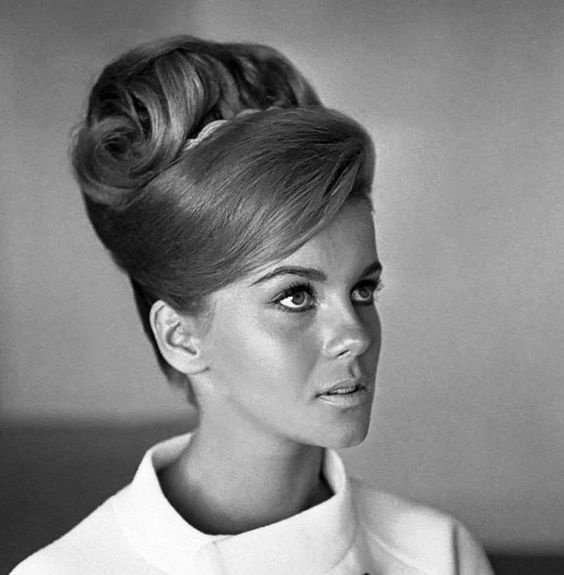 In 1960, Margaret Vici Heldt, a Chicago hairstylist, developed a new hairstyle: the beehive. The magazine, Modern Beauty Salon, had asked Heldt to create a new hairstyle for the 1960s, and she came up with the "beehive." Quite literally, the hairstyle aims to look similar in shape to a beehive. More recent pop culture figures, like Amy Winehouse and Marge Simpson, have sported the hairdo, too.
1970s: Stripes & Flower Power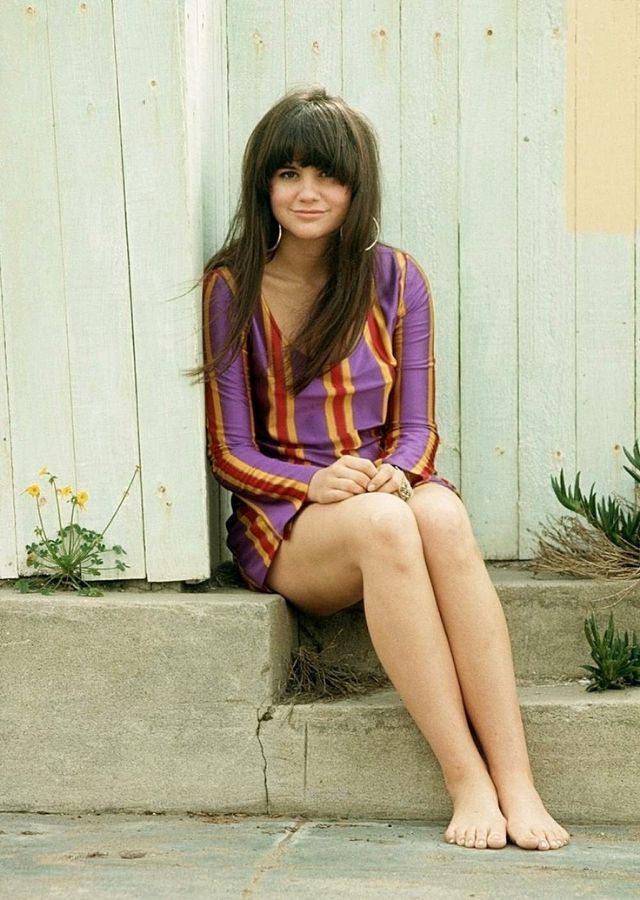 The 1970s were flowing with fashion. From flower-printed long dresses to striped rompers, as pictured on the famous Linda Ranstadt above, patterns were a true staple in the 1970s fashion scene. Also common among women's top style choices of the 70s were flared jeans, big belts and peasant blouses.
1970s: Farrah Fawcett Hair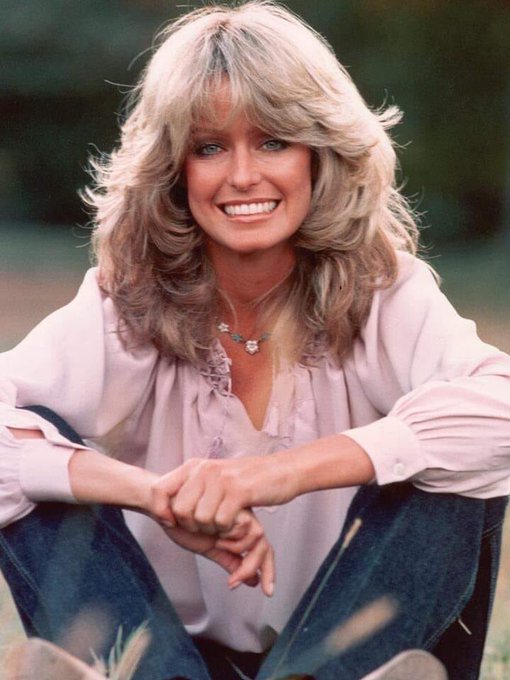 Feathery, flowy bangs that separate with a middle part are the cornerstone of the "Farrah Fawcett" hairstyle that was so very popular in the 1970s. This style created an easy-breezy look that became the catch-all look of the decade.
1970s: Platform Shoes
The platform shoe became extremely common in the fashion scene during the 70s. Both women and men paired the platform shoe with long, flared pants. Lots of women's platform shoes also came in strappy sandals for warmer months.
1980s: Crimped Hair
When teasing the hair to create a hairdo with lots of body wasn't an option, lots of women in the 1980s chose to crimp their hair. Crimping, usually done with a hot styling tool, created a succinct, wavy look in the hair. Sometimes, women chose to add colorful clips or even glitter to accentuate this look.
1980s: Neon Accents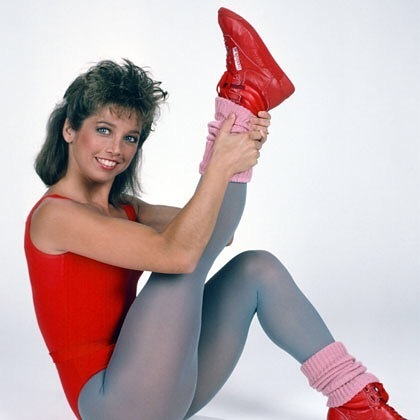 Legwarmers, bright leotards and colorful makeup were among the most popular clothing and makeup trends of the 80s. In the gym, women enjoyed wearing bright colors, often paired with tights and big sneakers. On the street, though, acid-wash jeans, oversized jackets and parachute pants were also popular.
1980s: White High-Top Sneakers
In casual settings, women frequently wore white sneakers, some of which had high tops. These sneakers went with almost any outfit, including leggings and jeans. They often also came with neon accents, mirroring the popularity of neon in the decade.
1990s: The "Rachel" Haircut
Anyone who's familiar with Friends has heard of Jennifer Aniston's signature haircut on the show, "The Rachel." This haircut signifies slightly teased hair to create volume, as well as flowy layers throughout.

Other women's hairstyles that were popular in the 90s include half-ponytails with scrunchies and teased, wavy hair.
1990s: Oversized Flannel
Oversized flannel shirts became a huge part of 90s fashion, especially as a result of the grunge scene. Both men and women paired an oversized flannel shirt with loose-fitting jeans to similarly match the looks of Nirvana's Kurt Cobain, as well as other grunge artists of the time.
1990s: Converse Sneakers
Chuck Taylors, otherwise known as Converse, were and still are some of the most commonly worn shoes in the 90s. Often paired with high-waisted, ripped jeans, Converse sneakers are comfortable and go with almost any casual outfit.
2000s: Pin-Straight Hair
The pin-straight hair look was extremely common among women in the early 2000s. Using a hair straightener to style hair allowed women to show off their layers and sun-kissed, blonde highlights, two other common hair trends of the decade. Another hairstyle trend of the 2000s? Side-swept bangs, as pictured on Lauren Conrad above.
2000s: Tube Tops
The tube top became extremely popular in the early 2000s, with famous singers like Britney Spears and the Spice Girls frequently sporting them on stage. Some tube tops came with sleeves, while others were simply paired with another popular fashion statement of the decade: the skinny scarf.
2000s: Platform Sandals
Flowery, embellished sandals were extremely popular in the 2000s, and women often wore them with flared jeans or flowy dresses. Some platform sandals, just like in the 1970s, included mesh straps, while others were made from foam and plastic.
2010s: Ombre/Balayage Hair
Still today, balayage is a common request hairstylists run into. This hairstyle, which gained popularity in the 2010s, features darker roots with lighter ends. It's the perfect hairstyle for low-maintenance gals, as it usually only requires a full touchup a few times each year.
2010s: Ripped Jeans
Ripped jeans have always been toggling in and out of fashion. But in the 2010s, they came back strong. Specifically, skinny ripped jeans were a common trend in the second decades of the 21st century.
2010s: The Go-With-Anything Sneaker
From the 2010s to present-day, people began wearing dressed-up sneakers with almost every kind of outfit. The go-with-anything-sneaker is a step up from the typical athletic tennis shoe. These shoes are often solid colors and accentuate an otherwise "nicer" outfit.
2020 to Today
Today, fashion might be considered an afterthought, especially with the unprecedented, difficult events of 2020. Most common among the style of 2020 to today are athleisure to accompany working from home, natural hair, minimalist makeup and athletic shoes. Today's current fashion is mostly about comfort, and it will be interesting to see how it pans out into the rest of the decade.