The Women's U.S. Gymnastics team has high expectations of themselves and from us. Let's be honest, if they aren't on the Gold podium, it is going to feel like a disappointment. With the Tokyo Olympic gymnastics competition right around the corner, the pressure is heating up.
But, how did the U.S. women's gymnastics team get where they are today? And what, exactly, makes them an unstoppable, competitive force against other teams?
2021 USA Women's Gymnastics Team Members
2020 was a year no one will forget, and although the Olympics were put on hold until 2021, team USA still managed to gather up some of the most talented female gymnasts around. The US is sending 6 women to compete, 4 on the team event, and 2 just competing in individual events. So, let's meet team USA!
Sunisa Lee
18-year-old Sunisa Lee started learning gymnastics at just six years old, and it paid off. At the 2019 World Championships, she won a silver medal for her floor exercise, a bronze medal for her uneven bars exercise, and a gold medal with her team. At the June 2021 Olympic trials, Lee scored higher than Simone Biles on the second day, something that only three gymnasts have ever done in the all-around event. She is currently signed with Auburn University to compete in the National Collegiate Athletic Association (NCAA) and is excited to grace the Olympic grounds for the first time.
Jordan Chiles
Since 2013, 20-year-old Jordan Chiles, otherwise known as "Chick," has been a member of the U.S. women's gymnastics team. She became the first women's all-around Winter Cup champion in 2021. Be sure to look out for her vault and floor competition at the 2021 games, as she earned the Pacific Rim championship in 2018 for the same event.
Grace McCallum
18-year-old Minnesota native Grace McCallum is quite the medal-winner. She first joined the U.S. women's gymnastics team in 2018 and helped her team win gold in both the 2018 and 2019 World Championships. She placed fourth at trials and will be the youngest athlete on the team. "Day 1 done, now let's have some fun on day 2!!" she writes in this Instagram caption.
MyKayla Skinner
A former University of Utah gymnast, 24-year-old MyKayla Skinner will grace the Olympics this year as an individual competitor. Skinner comes from a family of gymnasts and currently lives in Arizona with her husband. She's been competing for quite some time. In 2016, she was an alternate competitor for the women's gymnastics team. She has won four gold Pan American Championships medals, one bronze World Championships medal, and three gold medals for team competitions at the 2014, 2015, and 2019 World Championships.
Jade Carey
24-year-old Phoenix native Jade Carey, who will also compete individually, started her gymnastics career at just one year old. From 2017 to 2019, Carey won four medals at the World Championships, one of which was gold. She currently attends Oregon State University, and she is known for achieving high-difficulty routines both on vault and the floor.
Something to note though is how she qualified for the 2020 Tokyo games…
Carey's Unique Qualification Process
Carey's performances at the Apparatus World Cup Series gained her enough recognition that the women's U.S. Olympics team decided to automatically qualify her for a spot on the 2020 team. Yes, that means she secured a spot for the 2020 Olympics even before qualifications.
Simone Biles
Most people know that Simone Biles is known for being one of the greatest professional gymnasts of all time. At 24 years old, Biles will lead the women's U.S gymnastics team this year for the 2020 Tokyo Olympics. Surely, the rest of her team, who are all first-time Olympians, will appreciate having this superstar as team captain.
One Less Athlete for 2020
In previous years, there have been at least five team athletes on the women's gymnastics team for the U.S. In the 2016 games, the Final Five made up the team, and the same was true for the 2012 London games. This year, though, only four women make up the team, with two additional individual athletes.
What to Look Out For in 2021
After waiting an extra year to watch the Tokyo Olympics, fans are surely anxious to see what happens at the games this year. There is plenty to look out for, especially on the U.S. women's gymnastics team.
For one, most people anticipate Simone Biles to dominate her routines, both individual and team. But, with four brand new athletes on the team, it's safe to assume she might not be the only medal-grabbing champion this year. At least, fans can hope.
So, how did team USA women's gymnastics get to where they are today? Let's find out…
Simon Biles' Insane Talent
Today, one of the most popular gymnasts on the U.S. team, and across the world, is Simone Biles, who is historically known for being so talented she competes against her own records. But, Biles isn't the only recent team member who has helped gain the U.S. women's gymnastics team the recognition they have today…
Aly Raisman's Legacy
Aly Raisman, another recent gymnast on team USA, is now retired but played a major role in the success of the team. She captained the team at the 2012 and 2016 Olympic games and is considered the second-most decorated Olympic gymnast in U.S. history, just behind Shannon Miller.
Raisman has three gold, two silver, and one bronze Olympic medals, as well as two gold, one silver, and one bronze World Championships medals. She was one of the first members of the "Fierce Five," a team that truly catapulted team USA to its current success…
The Unstoppable Fierce Five
When people think of team USA, the term "Fierce Five" usually comes to mind. The Fierce Five won gold in the 2012 games and included team members Gabby Douglas, Aly Raisman, McKayla Maroney, Kyla Ross, and Jordyn Wieber. The Fierce Five were so successful, their team blossomed into something no one would ever forget…
From Fierce to Final
The Fierce Five carried their namesake to the 2016 games in Rio, ultimately becoming the Final Five, a team that could never be replaced or forgotten in sports history. The team included Simone Biles, Gabby Douglas, Laurie Hernandez, Madison Kocian, and Aly Raisman. And, 2016 proved to be quite the year for them…
The Final Five's Medal Victories
The Final Five won the third U.S. gold medal for the team event at the 2016 games. The Final Five medaled in every single event, a feat that had not been accomplished since 1992. And for team USA, this hadn't been done since 1984, when the team medaled silver…
L.A. Silver, 1984
No, it wasn't gold that gained team USA recognition at the 1984 Los Angeles games; it was silver. Still, team USA made quite the stamp on competitive gymnastics at these games, particularly because of one athlete…
Mary Lou Retton's Legacy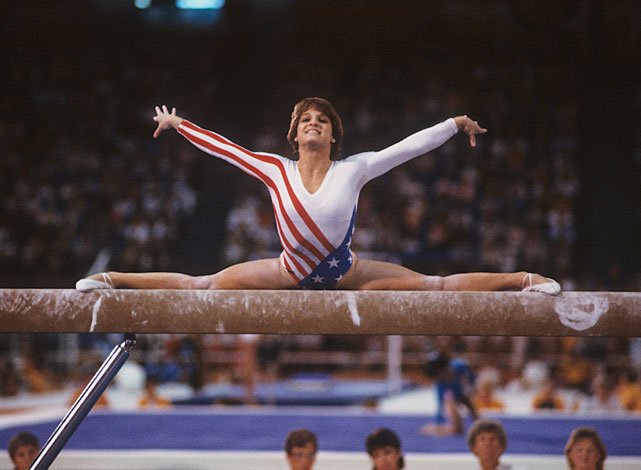 It was in 1984 that U.S. team member Mary Lou Retton became the first American woman to win an individual gymnastics gold medal in the individual all-around competition. As it turns out, though, a team gold medal was just around the corner for team USA…
The Year of the Magnificent Seven
The 1996 Atlanta Olympics was a very special year for team USA. It marked the beginning of the Magnificent Seven, a team composed of Amanda Borden, Jaycie Phelps, Dominique Dawes, Kerri Strug, Dominique Moceanu, Amy Chow, and Shannon Miller. Together, the team achieved something no one would ever forget…
Kerri Strug's One-Foot Landing
The team clinched gold after team member Strug perfectly stuck her vault landing. And get this: it was on one foot! She ended up injuring herself and was carried off the mat. Yet, team USA took home the gold. Strug's legacy wasn't the only remarkable result of the games, though…
Shannon Miller's 1996 Balance Beam Exercise
Team member Shannon Miller, who championed the balance beam event at the 1996 games and helped the Magnificent Seven win gold, is now considered the second-most decorated gymnast of all time, just behind Simone Biles. The Magnificent Seven, however, quickly became a team of six…
Strug's Sway Away
Although all seven women went on to appear on the Wheaties cereal box after their golden win, Strug opted to compete on her own to make more money, a decision not taken lightly by some team members. Still, the seven women stuck together to gain worldwide recognition for team USA…
Carly Patterson's 2004 Breakthrough
In the 2004 Athens games, U.S. gymnast Carly Patterson gained worldwide recognition after becoming the first all-around champion for the U.S. at a non-boycotted Olympics. She beat out Svetlana Khorkina, who at the time was a three-time world all-around champion.
Patterson's achievements of winning gold at the all-around event and silver medals at both the team and balance beam events got her inducted into the USA Gymnastics Hall of Fame, but she wasn't the only athlete from the U.S. that earned a spot there…
Magnificent Seven's Legacy & Induction
In 2008, the Magnificent Seven were back in the spotlight after making history with their 1996 wins. 2008 marked the year the Magnificent Seven were inducted into the United States Olympic Hall of Fame as a team. It also marked the year that now-retired Olympian Shawn Johnson became famous…
Shawn Johnson's "Bubbly" Legacy
Similar to gymnast greats Simone Biles and Aly Raisman, most people have heard of Shawn Johnson, and for good reason. Nicknamed "Bubbly," Johnson competed in the 2008 Beijing Olympics, where she won gold on the balance beam and silver in the team, the all-around, and the floor exercises. She has also earned recognition for the following amazing feat…
The 2.5 Twisting Yurchenko Vault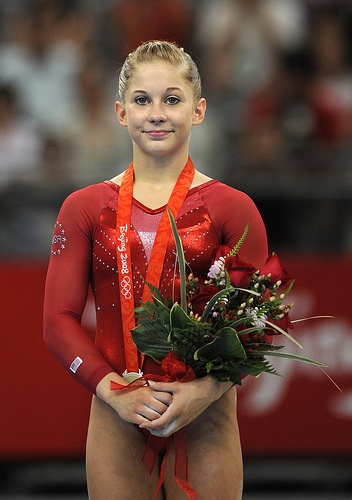 Today, Shawn Johnson remains an inspiration for current gymnasts, particularly because of her career as a highly competitive athlete. Her ability to become the first American to compete a 2.5 twisting Yurchenko vault (something gymnasts can fully appreciate and aspire to) has gained her wide respect worldwide. One of her 2008 teammates is also worth noting when it comes to talent…
Nastia Liukin's Long List of Medals
Nastia Liukin competed alongside Shawn Johnson in the 2008 games and became yet another dominant U.S. gymnast in all of sports history. She is tied with Shannon Miller, and now Simone Biles, for the American gymnast who has won the most medals in a non-boycotted Olympics. Liuken did not, however, qualify for the 2012 team, a team we mentioned earlier…
2012 London Gold
Remember the 2012 team? Well, 2012 marked the year the women's U.S. gymnastics team won gold in the team all-around event at the Olympics. Team member Gabby Douglas also made history that year…
Gabby Douglas' Legacy
Gabby Douglas, yet another U.S. Olympic gymnast who has become a household name, broke records at the 2012 London games. She became the first Black person to champion the Olympic individual all-around event.
If that wasn't enough, Douglas also broke the record for becoming the first American gymnast to win gold medals in the individual all-around and team events at the same games. The following summer games in 2016 proved to be a continuation of American domination, and Douglas remained on the team.
2016 Rio Gold & Biles' Career Take-Off
Team USA won the gold medal for the team all-around event in 2016 at the Rio games. This was the year superstar Simone Biles, winning gold in the individual all-around, vault, and floor exercises that year, made her way to the forefront of Olympics gymnastics.
Recent years have proven, though, that true athletic talent is something not to be taken for granted…
The Pandemic Effect
As everyone knows, the coronavirus pandemic caused a postponement of the 2020 Tokyo Olympics. For all athletes, including gymnasts, this was a difficult decision to accept. Retired gymnast Shawn Johnson had a lot to say about this too, in an April 2020 interview with ET.
"Gymnastics is such an extreme and ever-changing sport," she said. "You have to be healthy, you can't get hurt, you have to make sure you peak at the right time."
We will see just how much that one year affects this year's competitors at the Tokyo Olympics.