According to CNBC, during the 2018 Winter Olympics, United States Olympians earned $37,500 for a gold medal, $22,500 for a silver medal, and $15,000 for a bronze medal. But, how do Olympians earn money while they train? Through endorsement deals that pay more than most of us make in a lifetime.
Curious about which mega-brands have endorsed your favorite Olympians, and how much money the deals are worth? Enough to live lavish lives in multi-million-dollar mansions, as it turns out.
Usain Bolt
Jamaican sprinter, Usain Bolt, is recognized as one of the best sprinters in all of history. During his Olympic career, he won eight gold medals, making him a record-breaking athlete in sprinting. Because of his insanely impressive career, Bolt has secured endorsements with various brands, including Puma, which Forbes reported pays him $10 million a year, and Gatorade. The same Forbes report estimated Bolt earned $30 million in endorsement money in 2018. Bolt currently resides in a $1.9 million mansion in Brisbane, accompanied by multiple luxury sports cars.
Michael Phelps
U.S. swimmer Michael Phelps' most notable brand endorsements have included Visa, Subway, Wheaties, Omega SA and Kellogg Company. In the past, Phelps has also partnered with Speedo, who granted him $1 million after Beijing Olympics, to create the Michael Phelps Foundation and most recently in 2020, Team Panasonic, to continue to mentor youth. Phelps has also recently partnered with BetterHelp to bring awareness to mental health care.
Katie Ledecky
U.S. swimmer Katie Ledecky has competed in the 2012 London Olympics and the 2016 Rio de Janeiro Olympics to win a total of five gold medals, a record for female swimmers. She has a number of brand endorsements, including TYR, a swimwear company, which, according to Yahoo Finance, was worth $7 million. Yahoo Finance also reported she is a brand ambassador for Adidas, Panasonic and Visa.
Misty May-Treanor
Misty May-Treanor competed for the U.S. Olympic beach volleyball team in 2004, 2008 and 2012. When May-Treanor competed in the Olympics, she held a deal with Nautica, but it is unclear how much the partnership was worth. Notably, she frequently wore Nike bikinis during competitions, as Nike was frequently the U.S. team's sponsor.
Dwight Howard
Dwight Howard, a professional and Olympic basketball player, competed in the 2008 Beijing games and won gold. According to Forbes, he was the only U.S. team member that did not wear Nikes or Converse. Instead, he wore Adidas, the brand that granted him an endorsement.
Essentiallysports.com reported that Howard's "multi-year deal" with Peak Sport in 2015 was worth $31.5 million. Howard has also partnered with McDonalds. Howard is estimated to earn anywhere between $3.5-5 million per year in brand endorsements.
Shaun White
One of the most accomplished U.S. snowboarders of all time, Shaun White has had multiple endorsements throughout his career. He has been sponsored by Oakley, T-Mobile, Verizon, Sony, Mountain Dew, Target, Red Bull, Hewlett-Packard, Burton Snowboards, Birdhouse Skateboards, Park City Mountain Resort and American Express, among others. In 2008 alone, Forbes reported he earned around $9 million in endorsements. Celebrity Net Worth reports White's brand deals alone earn him an approximate $10 million annually, while Forbes has stated he earns $2 million per deal.
Svetlana Romashina
Svetlana Romashina is a Russian synchronized swimmer who has competed in the 2008, 2012, and 2016 Olympics. She is the brand ambassador for Ulysse Nardin, Swans Swim Russia, and Dobrov Meste Russia. Her net worth is estimated to be about $1 million, but it's unclear how much money she makes being a brand ambassador.
Simone Biles
Simone Biles has been named the greatest gymnast of all time, and for good reason. She is considered the most decorated American gymnast. She holds multiple endorsements, due to her immensely successful career as an Olympic gymnast. Such endorsements include Athleta, Caboodles, Visa, Beats by Dre, Octagon, Hersey, Kellogg's, and Capital One. Distractify reported she makes about $316,666 annually, but it's uncertain how much of that comes from brands.
Rafael Nadal
Kia is one of Spanish tennis player Rafael Nadal's biggest brand sponsors. Nadal competed and won gold medals in the 2008 and 2016 Olympics. Nadal has also had endorsements from Nike, Emporio Armani, Babolat, Banco Sabadell, Tommy Hilfiger, and Heliocare, among others. Essentially Sports estimates Nadal earns $26 million in endorsements, while his winnings earn him $14 million.
Kevin Durant
Kevin Durant, an NBA player, competed for the U.S. in the 2012 and 2016 Olympics. Both years, he helped his team win gold. His endorsements including Spring, Gatorade, Google, Sonic, Panini, Nike, 2K Sports, Foot Lockers, and General Electric. Essentially Sports reported that Durant earns an estimated $35 million in endorsements, about $5 million more than his earnings from winnings.
Maria Sharapova
Russian tennis star Maria Sharapova has played in the Olympics, Wimbledon, the U.S. Open, the French Open, and the Australian Open. Because of her tennis career, she has had endorsements with Motorola, Evian, Porsche, Nike, Land Rover, Canon, Gatorade, Tropicana, Tag Heuer, and Tiffany. Forbes reported Sharapova earned $6 million in 2019 just for endorsements. Her candy company Sugarpova also earns her a significant amount of money. Forbes estimated it earned her $20 million in revenue in 2019.
Li Na
Li Na competed in the Olympics for team China tennis, and her current estimated net worth is $50 million. According to CNBC, in 2011, she signed a three-year endorsement deal with Mercedes Benz, which was worth $1.5 each year. The same report estimated she earned $10 million the same year through her deals with Nike, Rolex, Spider and Haagen-Dazs.
Michelle Kwan
Former U.S. Olympic figure skater Michelle Kwan has had numerous endorsements over the course of her professional career. These endorsements include Campbell's, Minute Maid, Starbucks, Visa, Yoplait, Got milk?, Kraft, Maxxis, Riedell Skates, Royal Caribbean International, Chevrolet, United Airlines and Mattel. She also had a deal with The Walt Disney Company, which was estimated at a $1 million worth. NBC reported in 2002, Kwan earned $2 million a year for her endorsements. Today, her net worth is an estimated $12 million.
Lionel Messi
Lionel Messi is one of the world's highest-paid soccer players, with his net worth at an estimated at $400 million. Forbes reported in 2021 that he earns up to $160 million annually in endorsements from brands like Adidas, Dolce & Gabbana, and Audemars Piguet.
Serena Williams
One of the most accomplished and popular tennis players to-date, Serena Williams, has had a long history of sponsorship deals. Her partnership with Nike, which went from 2004 to 2009, earned her around $40 million, according to one report. She has also been endorsed by Wilson, Gatorade, Lincoln Motors, Intel, Wheaties, Berlie, Puma ($12 million deal), Tempur-Pedic, and Aston Martin, to name a handful. Forbes reported in 2021 she earned about $40 million in endorsements alone.
Venus Williams
Venus Williams, sister to Serena Williams, has also had quite the stunning tennis career. She has had endorsements from Wilson, Kraft, Ralph Lauren, Tide, and Electronic Arts. One site reported her earning $5 million in endorsements in 2019. The same report said her net worth is an estimated $95 million.
Jamie Anderson
Jamie Anderson, a professional snowboarder, competed for team USA in the 2014 and 2018 Olympics. Her endorsements including Billabong, GoPro, Oakley, Audi, and Monster energy drinks. Her endorsements have helped her net worth to total an estimate of $4 million.
Novak Djokovic
It's estimated that Serbian tennis Olympian Novak Djokovic's endorsement deal with Lacoste has earned him $9.4 million each year since 2017, and the deal ends in 2022. Djokovic also has had deals with Jacob's Creek, FitLine, Ultimate Software Group, Adidas, (which earns him $4 million), Sergio Tacchini, Mercedes-Benz, Peugeot, Seiko, Head and Asics. Fox Business reported Djokovic earned $20.6 million in endorsement deals in 2019 alone. He continues to earn money each year for his deals.
Apolo Ohno
American speed skater Apolo Ohno competed in the 2002, 2006 and 2010 Olympic Games for the U.S. Throughout his career, Ohno has garnered numerous sponsorships, including McDonald's, Procter & Gamble (P&G), Vicks, Alaska Airlines, Coca-Cola and General Electric (GE). In the year 2010, he earned an estimated $1.5 million through these deals, but the exact amount he has earned since has not been confirmed. He does, however, have an approximate net worth of $10 million.
Allyson Felix
Allyson Felix competed in the 2012 and 2016 Olympics for U.S. track and field. She had a sponsorship with Nike that ended in controversy after she alleged they treated her poorly while she was pregnant. In 2018, she joined with Gap's brand Athleta, but the amount of the deal is unknown. She has an estimated net worth of $4.5 million.
Kerri Walsh Jennings
Professional beach volleyball player and former U.S. Olympics team member Kerri Walsh Jennings has had quite the career. 2016 marked the year her winnings amounted to 133. She has also had endorsements that supported her career, including Halls, Speedo, Oakley, Visa, and Gatorade. One report estimates her net worth to be $6 million, which means her endorsements must pay generously, considering her total victory earnings amount to about $2.54 million.
Ryan Lochte
During his Olympic career on team USA, Ryan Lochte won 12 medals. Next to Michael Phelps, Lochte was known for being one of the most successful professional swimmers of his time. He also secured plenty of endorsements throughout his swimming career, including Speedo, Gillette, Gatorade, Ralph Lauren, Nissan, and Mutual of Omaha. One report stated he used to earn over $1 million annually from brand deals, but now he earns $75,000 from one. This is perhaps due to the loss of his major sponsorships after he lied about being robbed in at the Rio games.
Lindsey Vonn
Former U.S. Olympic ski race, Lindsey Vonn, has also had her fair share of sponsorship deals because of her athletic career. She has worked with Alka-Seltzer in TV ads and been associated with Head skis, Rossigol skis, Under Armour, Hershey, Beats by Dre, Red Bull, Oakley, GoPro, and Vail Resorts, among others. Though it's uncertain just how much her sponsors have paid her in the past, her net worth is estimated at $3 million.
Brady Ellison
Professional archer Brady Ellison has won two silver and one bronze Olympic medals for team USA. His sponsors include Solve Media, Hoyt Archery, Axcel Sight and Scops, and Easton Arrows. Although his sponsorship earnings are unknown, he's estimated to have a $4-6 million net worth.
Gabby Douglas
Gabby Douglas is known for being one of the most successful and decorated U.S. Olympic gymnasts of all time. Because of her record-breaking career as part of the "Fierce Five" U.S. women's gymnast crew, she has earned plenty of endorsements. Those include Kellog's and Procter & Gamble (P&G), which come with brands like Gillette, Olay, Pantene, CoverGirl, and Secret. CNN estimated in 2012 she raked in between $1-3 million a year from her endorsements.
April Ross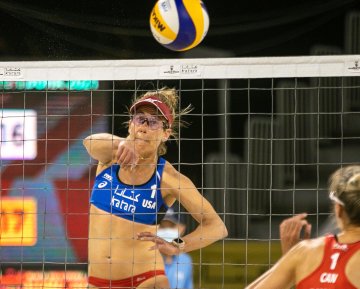 American beach volleyball player April Ross is a force to be reckoned with when it comes to this sandy sport. She has been sponsored by Rapidforce Inks and played in the 2012 and 2016 Olympics, where she won silver and bronze medals, respectively. It is unclear how much her sponsorship deal is worth, although Ross has raked in quite a lot of cash throughout her career, including a $937,813 award in prize money for her wins up to 2012.
Mary Lou Retton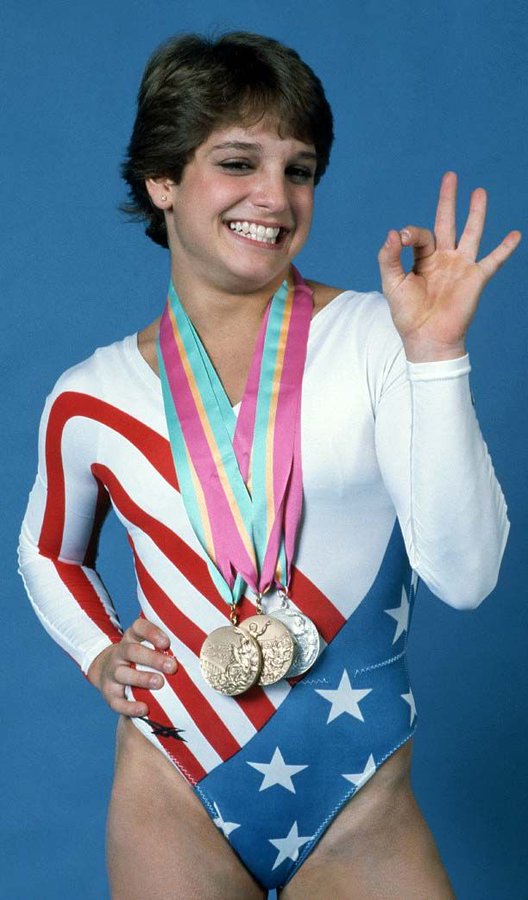 Mary Lou Retton is best known for being a part of the 1984 Olympics, where she won gold in all-around, which made her the first American female gymnast to do so. Retton's endorsements have included Revco, General Mills Wheaties, and Australian Dream. Her estimated net worth is $8 million.
Caeleb Dressel
U.S. swimmer Caeleb Dressel competed at the 2016 Olympics, where he won gold in the 4×100 meter freestyle relay. He is endorsed by Speedo, and the exact amount is unknown to the public.
Sydney McLaughlin
Sydney McLaughlin represented the U.S. team at the 2016 games, but she did not medal. Her endorsements include New Balance, which began in 2018. Running Magazine estimates her net worth to be around $1.5 million, although the exact details about her endorsement compensations are unknown. She is also a brand ambassador for Tag Heuer.
Yusra Mardini
Syrian swimmer, Yusra Mardini competed at the 2016 Olympics, where she was best known for her freestyle and butterfly swimming events. She is sponsored by Under Armour, but it is unclear how much her deal is worth.